Student Favorite!
Sep 15, 2021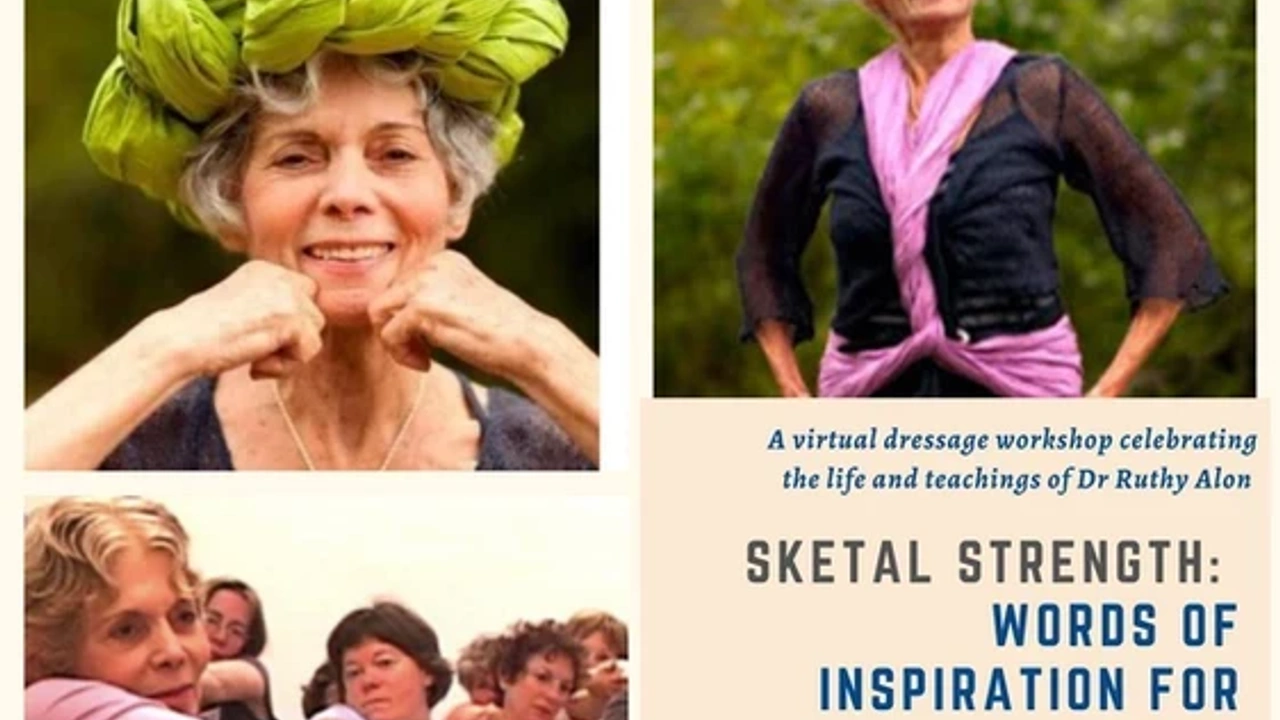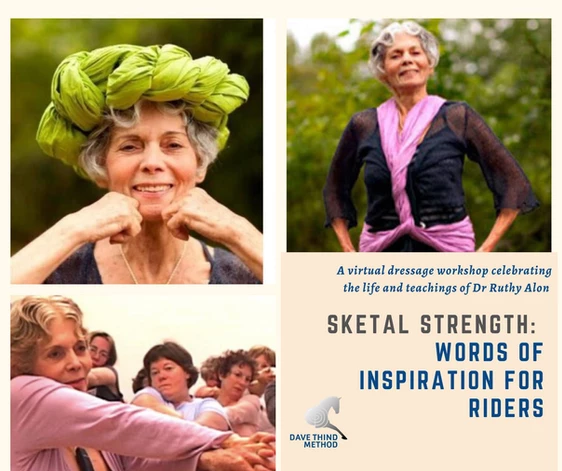 "The disposition of the pelvis determines the degree of comfort and efficiency of serving as a bridge between the legs and the back"
"Continuing in an effort to overcome your body's resistance will not only make the movement unpleasant, but also reduce the efficiency. The organism does not tend to accept and use that which is perceived as uncomfortable and unsupportive"
"Your purpose is to accumulate enough experience of learning the new possibility and to find out how you can improve the quality of your movement".
"Surrender your weight more fully to the ground without futile work against it".
Dr. Ruthy Alon
(Lesson 5/6) from our Skeletal Strength workshop inspired by the life's work of Dr Ruthy Alon seems to have been a student favorite of those who attended the class.
And for those who went on to incorporate these teachings into their riding, for many it was a turning point in their riding.
Take a moment to reflect upon the powerful words below that Ruthy used to describe some of the work in this education.
Which resonate most with you?
How can these wise words help you and your own riding?
Can these words provide some insight in how to work with and train your horse?
Also during that same class (#5), we had an opportunity to share thoughts/emotions/feelings that we experienced while focusing on the movement and how we experience our pelvis.
We thought we would share some of the adjectives that our students used to describe how they "felt" their pelvis post class. For many, this was not only an eye opening experience to really tap into how this sometimes forgotten part of our anatomy felt, but was also an opportunity to learn from the shared experiences that everyone else felt in the class. What a wonderful thing to know that we all have unique ways of moving and feeling but that we can collectively learn from each other.
Our test movement in standing and while walking at the beginning of class entailed taking an inventory, specifically around how we experience our pelvis.
After the class, the questions were:
Sense the way you are standing and walking now, your posture, the atmosphere. What statement does your way of standing imply? (Moshe's quote: "We act in accordance to our self-image" reminds us that it is with this image that we interact with the world.)
If you have words for the qualities you feel, try to describe the experience of your pelvis now.
Here are some of the student's answers.
From Sharon : solid, grounded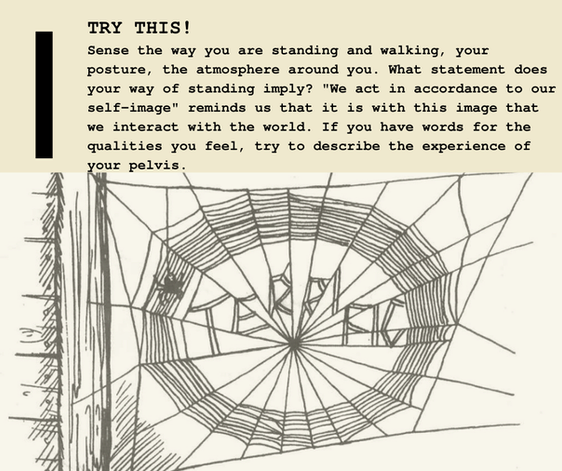 From Karen: Connected, excited, clear From Erin : Loose at the beginning, solid and strong at the end From Jan: Firm, connected, plateau, fluid, strong , not constricted, bold From Amy : relaxed - confident
AND AFTER THE WHOLE SERIES:
On the last day of class, Dave asked students in both classes to describe how they now felt in their bodies after the 6 week long series. We have highlighted just some of what our students had to share below.
This work is SO powerful, as evidenced here, and we are so proud to be able to share Dr Alon's legacy and body of work as translated for riders.
"I recently rode in a clinic and got a compliment that I had a 'good seat'!!! I really never considered myself to have a Good seat -= just ok. kudos to you!!" -Deborah T
"The feeling of being more grounded, centered and strong is incredible" -Christine G
"Foam like movement of bones" -Sharon L
"Tapping creates a free flowing open movement and thoughts- liberating in mind and body" - Jan J
"Connecting the parts together. Learning how each half of me is different" -Karen A
"The new awareness that very small movements can be very effective" -Kate C
" Feeling the freedom to move. Not being in a stiff perceived position" -Erin
"More connected to my whole body" -KristinAnn J
"Pelvic and heel tapping helped me become more aware of my movement" -Christy D
" Feeling more grounded" -Joanne M
"I have enjoyed tapping to center myself throughout the day" -Erin W
"My horse thanks you for the positive changes in my riding. I've become softer, and been able to get out of my head and let my body respond to the movement felt underneath me. Looking forward to your March class." - Kerry S
"Your classes have helped me SO MUCH! Have done little more than easy walk trot around the arena a few times in past year due to injuries incurred from condition that caused bone disease and bone damage in vertebrae. With these classes, have found a way to discover new awareness in my body. It also integrates well with physiotherapy and chiropractic work. Discovered weak areas of neuromuscular connection in pelvis and SI joint area. Am making stronger connections with brain and muscle groups. Explains areas of my riding difficulties. If I am not giving the body message I think I am, then my horse is not going to be able to know what I am asking! Because your classes connect the movement teachings of Feldenkrais and Dr. Alon to riding, it gives me more context and purpose to work on improving awareness and developing necessary neuromuscular communication. Thank you so very much. Enrolling in your classes was my first Zoom experience. Am a bit uncertain and self-consciousness in using Zoom, yet am so grateful because it made it possible to participate in these classes! As a result, haven't spoken up during or after class because not sure of all Zoom features. Writing this to let you know that your teaching has been very helpful and valuable! Am already signed up for Good Hands,... and looking forward to it! " - Janet M.
TO PURCHASE RECORDINGS OF THE CLASS
The series is for sale at $279 students that paid to attend the live classes receive a 75% rebate. The recordings are of the classes themselves, but group discussions are cut out.
Anyone who wishes to purchase can send $279 USD via PayPal (friends) to [email protected] Please do not use the pay for service option or this fee will have to be charged to you. Once completed, inform by by email.
The price for previous students that already paid to attend DTM Bone Strength (other programs not eligible)
$69.75
The Skeletal Strength class series was one of our most popular online workshops to date! And due to high demand and appreciation, we have decided to offer the 6 week recorded series for purchase. Whether you missed the series or simply want to have the materials available for you to continue learning as your pace, DTM is excited to make this material widely available.
With the recent passing of Bones for Life creator, Dr Ruthy Alon, in January 2021, Dave decided to reimagine some of her incredible life's work and teachings for riders! Ruthy was also a Feldenkrais practitioner and was very close with Dr Feldenkrais until his death. As such, there is great synergy between Ruthy's work and the DTM method. For more specific insight into the Skeletal Strength program, check out our archived posts on social media or refer to these articles:
- https://www.eurodressage.com/2021/01/16/new-dave-thind-method-class-series-20-january-2021-maximise-bone-health-improve
-https://www.eurodressage.com/2021/01/19/ever-wondered-im-not-riding-well-i-was-5-years-ago-and-neither-are-my-peers-same-age